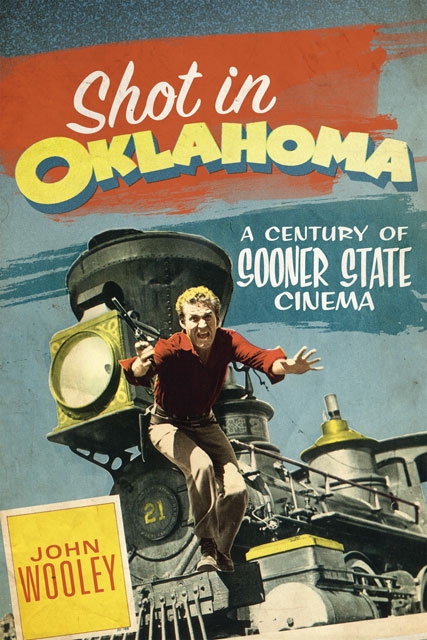 A Century of Sooner State Cinema
Named Outstanding Book on Oklahoma History for 2011 by the Oklahoma Historical Society.
When inventor and movie studio pioneer Thomas Edison wanted to capture western magic on film in 1904, where did he send his crew?
To Oklahoma's 101 Ranch near Ponca City. And when Francis Ford Coppola readied young actors Tom Cruise and Matt Dillon to portray teen class strife in the 1983 movie The Outsiders, he took cast and crew to Tulsa, the setting of S. E. Hinton's acclaimed novel. From Edison to Coppola and beyond, Oklahoma has served as both backdrop and home base for cinematic productions. The only book to chronicle the history of made-in-Oklahoma films, John Wooley's Shot in Oklahoma explores the variety, spunk, and ingenuity of moviemaking in the Sooner State over more than a century.
Wooley's trek through cinematic history, buttressed by meticulous research and interviews, hits the big films readers have heard of—but maybe didn't realize were shot in the state—along with lesser-known offerings. We also get the films' intriguing backstories. For instance, President Theodore Roosevelt's fascination with a man purportedly able to catch a wolf in his hands led to The Wolf Hunt, shot in the Wichita Mountains and screened in the White House in 1909. Over time, homegrown movies such as Where the Red Fern Grows (1974, 2003) have given way to feature films including The Outsiders and Rain Man (1988). Throughout this tale, Wooley draws attention to unsung aspects of state and cinematic history, including early all-black movies lensed in Oklahoma's African American towns and films starring American Indian leads.
With a nod to more recent Hollywood productions such as Twister (1996) and Elizabethtown (2005), Wooley ultimately explores how a low-budget slasher movie created in Oklahoma in the 1980s transformed the movie business worldwide. Punctuated with photographs and including a filmography of more than one hundred productions filmed in the state, Shot in Oklahoma offers movie lovers and historians alike an engaging ride through untold cinematic history.