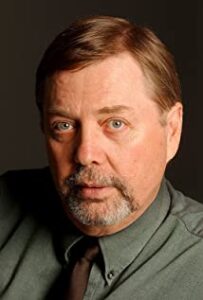 JOHN WOOLEY is a writer, novelist, lecturer, filmmaker, and radio and TV host who specializes in the movies, literature, and music of the 1930s and '40s as well as other pop-culture history.
          He has written, co-written, or edited nearly 50 books, including the new 1930's-set epistolary horror trilogy The Cleansing (consisting of Seventh Sense, Satan's Swine, and Sinister Serpent), with Robert A. Brown; Twentieth-Century Honky-Tonk, the real-life story of the fabled Cain's Ballroom's first 75 years, with Brett Bingham; Right Down the Middle, the as-told-to biography of famed New York Yankees pitcher Ralph Terry, a northeastern Oklahoma boy who went on to become 1962 World Series MVP;  the critically acclaimed biography of moviemaker Wes Craven, The Man and His Nightmares; and Shot in Oklahoma, a look at Sooner State-lensed pictures that was named Best Book on Oklahoma History for 2011 by the Oklahoma Historical Society. He was also guest curator for an Oklahoma History Center exhibit, Oklahoma@ the Movies.
         Wooley has scripted a number of documentaries, including the Learning Channel special Hauntings across America and the recent Oklahoma Military Academy: The West Point of the Southwest. He also wrote the made-for-TV feature Dan Turner — Hollywood Detective, starring Marc Singer, Tracy Scoggins, and Arte Johnson, as well as the award-winning independent movie Cafe Purgatory. His scripting extends to comic books and graphic novels, including Plan Nine from Outer Space, Grateful Dead Comix, and Death Rattle, along with The Twilight Avenger and Miracle Squad series, which he co-created with artist Terry Tidwell.  
          An entertainment writer for theTulsa World newspaper for 23 years (1983-2006), Wooley has seen his articles and interviews appear in a wide range of other publications, fromTV Guide to the horror-movie magazine Fangoria, for which he wrote more than 100 pieces.
          He is also the producer and host of the highly rated Swing on This, Tulsa's only western-swing radio program, heard every Saturday night on NPR affiliate KWGS (89.5 FM); it won an Outstanding Special Programming Award from the Oklahoma Association of Broadcasters in 2012. With Michael H. Price and producer-engineer Joey Hambrick, he co-hosts the Forgotten Horrors podcasts. Wooley is executive producer, writer, co-producer, and co-host of the public-television series Film Noir Theatre, which is currently in its fifth season on RSU Public TV.
          His work in music extends to songwriting and performing: "Gone Away," which he co-wrote with Steve Ripley and Tim DuBois, was the first single from Ripley's 2003 solo disc, receiving international airplay. Later, it was covered for the country market by Bill Anderson with the Oak Ridge Boys. He has played Vox organ on discs by Ripley, the Red Dirt Rangers, and others. Currently, he works with the proto-psychedelic '60s band The Moody Dudes.  
BOOKS AND A BOOKLET (AS EDITOR)
MOVIES AND DOCUMENTARIES (AS WRITER AND/OR INTERVIEWER)
COMIC BOOKS AND GRAPHIC NOVELS (AS CREATOR AND WRITER)
COMIC BOOKS AND GRAPHIC NOVELS (AS WRITER)
COMIC BOOKS AND GRAPHIC NOVELS (AS CONTRIBUTOR)
MAGAZINE AND NEWSPAPER WORK
         I've written hundreds of articles and the occasional short story for dozens of magazines, most of them connected with some aspect of popular culture (including Rolling Stone, which published a poem of mine in 1980, and, much more recently, a bylined piece in TV Guide).  My biggest markets in this area have been the horror-movie magazine Fangoria, which published well over 100 pieces of mine, and the record-collectors' magazine Discoveries, for which I wrote more than two dozen major stories. I was also a columnist for Baby Boomer Collectibles from 1994 through 1996, and for the film collectors' publication The Big Reel from 1979 through 1984.
          I have also written for the websites cmt.com and rifftime.com, and created promotional material for recording acts Cross Canadian Ragweed, the Red Dirt Rangers, Steve Ripley, Asleep at the Wheel, Doug Moreland, Tracy Lawrence, Billy Parker, and Stonehorse.
          From 1983 through most of 2006 I was an entertainment writer for the daily paper The Tulsa World, specializing in country music, horror movies, jazz, and the more oddball manifestations of pop culture. In that capacity, I've written several thousand articles, reviews, interviews, and opinion pieces.
OTHER WRITING-RELATED WORK
           In 2011, I became a guest curator for the Oklahoma History Center's Oklahoma@the Movies exhibit.  For the exhibit, which opened in Oklahoma City in May 2012, I wrote and narrated a short documentary, wrote panels, contributed articles to the book published in conjunction with the exhibit, assisted with research and other tasks, and contributed artifacts.
           Since 2003, I have produced and hosted a weekly western-swing radio program, Swing on This, for NPR affiliate KWGS (89.5 FM). Prior to that, beginning in 1991, Hall of Fame Disc Jockey Billy Parker and I had a weekly show on KVOO (1170 AM) that began as Wooley Wednesday and went through several other titles before finally expiring in 2001.