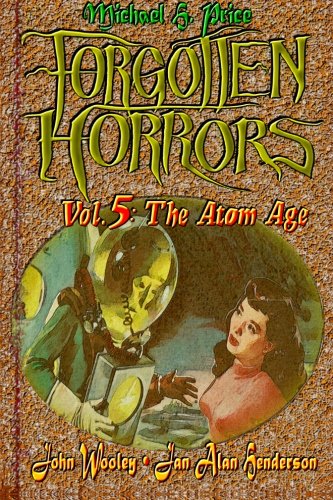 Forgotten Horrors Vol. 5:
By Michael H. Price, John Wooley, and Jan Alan Henderson
The acclaimed Forgotten Horrors series of movie-genre history and criticism lurches into the turning-point stretch of 1949-1954. This 300-plus-page study of the independent studios' forays into horror, S-F, film noir — and some unclassifiable oddities — tackles the most conflicted and paranoid period of American cultural history in terms of such breakthrough pictures as these: Mikel Conrad's "The Flying Saucer," the oddly matched set of George Pal's "Destination Moon" and Kurt Neumann's "Rocketship X-M," Edgar G. Ulmer's "The Man from Planet X," Ivan Tors' "Office of Scientific Investigation" trilogy, and William Cameron Menzies' "Invaders from Mars." To say nothing of E.A. Dupont's "The Neanderthal Man," William Castle's exploitation-film debut "It's a Small World," and — did somebody say, "Skipalong Rosenbloom"?! A brief flowering of science fiction and general-purpose imaginative zeal gives way to the beginnings of what genre historian Phil Hardy has called "an all-out horror revival. Forgotten Horrors Vol. 5 teams the series' co-originator with Wes Craven biographer John Wooley and Lydecker Bros. biographer Jan Alan Henderson for a rip-snorting round-up of essential titles and long-buried rediscoveries.