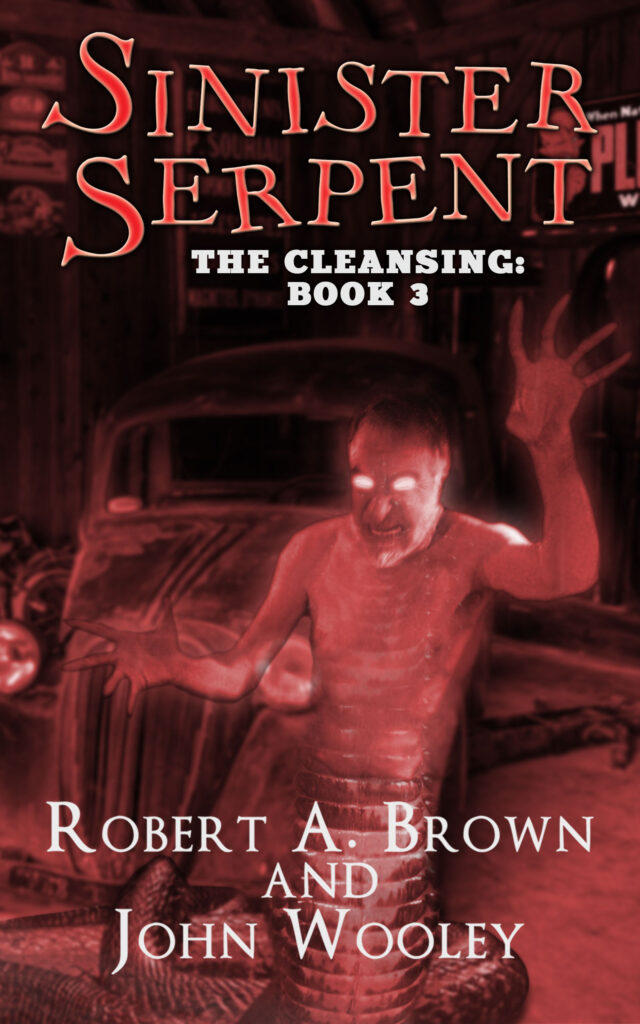 By Robert A. Brown and John Wooley
The final installment of the CLEANSING trilogy barrels to a conclusion in SINISTER SERPENT, which finds WPA Folklore Project worker Robert A. Brown roaring through the foreboding Arkansas hills on his souped-up Indian motorcycle, pursued by unknown terrors. Set in the late summer and autumn of 1939, SINISTER SERPENT continues to reveal more and more about the lives and often-surprising motives of such memorable characters as boarding house owner Ma Stean; tough-talking Sheriff Meagan; the sinister Old Man Black and his imbecilic sons; Pete, Robert's part-time employer and comrade-in-arms; and Robert's girlfriend, Patricia, with whom his infatuation has grown much more serious.
Even as he tries to finish up his government assignment in and around the isolated town of Mackaville, Robert continues to poke into the mystery of the Cleansing, the name for an unspeakable horror that lies buried in the town's past. Along the way, he encounters a variety of menaces, from knife-wielding assailants to an unseen monster attacking not only the area's livestock, but its residents as well. At one point, Robert finds himself resorting to magical incantations, and the results convince him that his seventh sense isn't his only supernatural gift. Or curse.
While the dark curtain of a world war slowly descends around him, Robert doggedly pursues his quest to its end point — the town cemetery, where the final revelation could take his life away in a twinkling.
Published by Babylon Books, SINISTER SERPENT and the two previous Cleansing volumes, SEVENTH SENSE and SATAN'S SWINE, are available in digital download or trade paperback form from your favorite online bookseller.