The very first sale I made as a writer was a comic-book script bought by Warren Publications in 1970 for the sum of exactly twenty-five frogskins. It came out in Eerie No. 32, illustrated by the veteran illustrator Jack Sparling and edited by Archie Goodwin, who I was to find out was one of the truly good guys in the comics biz. I sold a couple more stories to Warren before Viet Nam intervened – I think I was up to fifty dollars with the third one – and when I returned home from active duty the editorial policy had changed, and I couldn't have sold new editor Bill Dubay a snow cone in hell.
So my comics career, such as it was, didn't really begin until the black-and-white tidal wave of the late '80s – and pretty much ended when the seas again flattened and that ship sailed (not to beat a metaphor to death or anything). Like a lot of other comics creators, I ended up amassing a fairly decent body of work during that time – roughly 1986 through 1992 — and went on to other pursuits afterwards.
As I've said many times, though, once you get something out there, you never know what's going to happen to it, and I'm happy to say that two of my favorite projects from those halcyon independent-comics days are back on the market.
     The first is my fanciful pseudo-biography of horror heavyweight Tor Johnson, nicely illustrated by Bruce McCorkindale, which originally appeared under the banner of Monster Comics, a division of Fantagraphics, in 1991. The first, and so far only, comic book done in A-R Vision (which allegedly stands for alternate-reality, but could just as easily be anal-retentive), Tor Johnson, Hollywood Star makes up a proud portion of the brand-new Forgotten Horrors Comics & Stories, the latest production from my pal Michael H. Price's Cremo Studios.
Available for 15 smackers from amazon.com and oldies.com, Forgotten Horrors Comics & Stories also reprints The Man from Planet X and Destination Moon comic books, given some new, very funny, and often near-Dadist dialogue by MHP (in the style of his highly recommended Comics from the Gone World series) that, remarkably, takes nothing away from the storylines. Michael also contributes more intriguing input from his dizzyingly prolific comics career, including a dandy fumetti illustrating Son of Ingagi and an Old Hollywood-related story of the Prowler – one of the best costumed characters to come out of the indie-comics boom — with art by Graham Nolan. Our cohort in the Forgotten Horrors series of film-history books, Jan Alan Henderson, weighs in with a fine piece concerning the ballyhoo for the movie Destination Moon – which, interestingly, included more than one comic-book adaptation.
     Also, advance orders are now being taken for the first Miracle Squad graphic novel, reprinting the four-issue series artist Terry Tidwell and I did for Upshot Graphics – also a Fantagraphics imprint – back in 1986 and '87, packaged with our introductory Miracle Squad story (from John Byrne's 1986 Doomsday Squad), my four-part study of the B-movie studios that inspired the Squad, and – new to this collection – an annotated sketchbook from Terry, my original prose story that inspired the Squad, and – thanks to a suggestion from publisher Bill Cunningham, aka the Mad Pulp Bastard – my dream casting of a Miracle Squad movie with actual B-pic actors from the '30s.
That, of course, is where we're coming from with Miracle Squad. It's an evocation of what life might have been like for those working in the shadows of the big studios during Hollywood's Golden Age, grinding out their little pictures in a ghetto known as Poverty Row. We love this era, and these films, and I think it shows in Miracle Squad.
For more information, or to order, contact www.pulp2ohpress.com. Cost is $17.99, and postage is free on advance orders.
Big thanks to Bill Cunningham and Michael H. Price for making these stories once again available. Please check 'em out.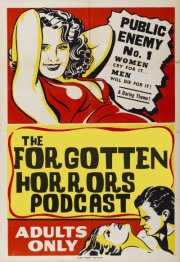 Finally, if you're in the mood to listen to some pretty lively and even insightful discussions of obscure and unheralded movies, check out our Forgotten Horrors podcasts. As I write this, in early November, Mike Price, producer Joey Hambrick, and I are about to log our fourth one, a look at the Coleman Francis-Anthony Cardoza opus, The Beast of Yucca Flats. Between us, Michael and I have logged a good eight or nine decades of writing about this stuff and interviewing the people involved with it, and we like to think that gives us a little bit of cred.
     You can hear each installment of the Forgotten Horrors podcast at absolutely no cost on iTunes or Podbean. It's also free to subscribe – and we give stuff away on each show!
Comments are welcomed;
please address 'em to this website.
And, as always, many thanks.