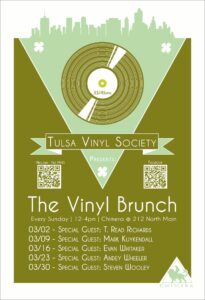 Sunday, March 30, I'll be joining my dj son Steven for the Vinyl Brunch, an event put on by the Tulsa Vinyl Society at the Chimera Cafe, 212 N. Main Street in Tulsa. As the guest dj that day, he'll be spinning "electronic to Americana," he says, during his time at the turntables. Steven is scheduled to start at noon and go until four p.m.; somewhere in there, probably around 2 p.m., I'll wag in a stack of LPs and inflict about an hour's worth of my favorite tracks on the crowd.
    No western swing this time around — tune into my show 
Swing on This
 every Saturday at 7 p.m. on Public Radio Tulsa 89.5 FM or 
www.kwgs.org
 for that — but lots of '60s and early stuff, from Moby Grape to the Midnight String Quartet, Lola Albright to the Kinks, Michael Nesmith to 101 Strings. It'll all be pretty mellow, and probably a little odd — not unlike the 
Hidden Sixties Holiday Special 
Scott Gregory and I did last December on the abovementioned Public Radio Tulsa, only with a little more organ music.
    I'm sure I'll be whatever the opposite of too hip for the room is, but I'm happy to be doing it anyway, especially in what Steven describes as a very laid-back atmosphere at a venue that serves excellent food and drink. So join my younger son and me and a roomful of other vinyl lovers as we share our stacks of licorice pizzas. I think we're going to have some fun.