Yes, it's been a long time since I "blogged," as the "kids" say. But those who follow my radio show, Swing on This, know that I've been keeping up with the weekly playlists, so, despite appearances, this site is not abandoned.
What's brought me back to write some new material? Well, evidence to the contrary, it's not the eye-rolling that my webmaster son, Jonathan, does whenever I start talking about the website, giving everyone in the room the expression you'd give if your nutty old aunt started talking about picking up those radio broadcasts in her molars again.
No, the occasion is three new books, one of which I co-wrote, one of which I contributed to, and one I had nothing to do with, except for reading and enjoying it and promising its author I'd pass the word.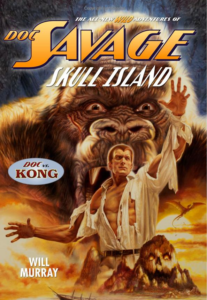 The writer is my good friend Will Murray. The book is his new Doc Savage novel, Skull Island. In it, a barely out-of-his-teens Doc joins his father and grandpa, Stormalong Savage, in a great adventure with King Kong on Kong's own turf. It's a much younger and far more violent Doc than we pulp fans are used to seeing. Time and again, first with the Bantam mass-market paperback series and now with the trade paperbacks for Altus Press, Will has shown himself to be a worthy successor to Lester Dent and the other Golden Age pulpsters who chronicled Doc's life and times under the collective house name of Kenneth Robeson.  Writing in the swift and artful style of those grand old fictioneers, Will has crafted a terrific and unusual tale. "Unsettling" isn't a term you'd normally associate with Doc's adventures, but you could sure use it here.
And then, thanks to the indefatigable Michael H. Price, there are now two more books in his acclaimed Forgotten Horrors series: Forgotten Horrors 6: Up from the Depths and Forgotten Horrors to the Nth Degree: Dispatches from a Collapsing Genre. Both come courtesy of his publishing house, Cremo Studios, through Amazon's estore link at https://www.createspace.com/4132897
As is the case with Skull Island, the two books can also be found on amazon.com.
While I've been blessed with participation in the Forgotten Horrors series since No. 3 came along, and film historian and writer Jan Alan Henderson has joined the roster as well, these books all bear the unmistakable stamp of Mike Price. He and his late collaborator George Turner began them back in the '70s, and Michael has continued to be the guiding intelligence and force behind them ever since George's death in June of 1999.
Michael does the yeoman's work on these books. He does the covers and the layouts and the lion's share of the text. He has the final edit, and even the contributions that Jan and I make are of a piece with his brilliant and often idiosyncratic vision.  He's a jewel, and, speaking for myself, I'm just happy to be a little part of the setting.
Volume 6 covers the great monster-kid years 1954 through '57, which saw the death of the horror comics the beginnings of the monster-mag explosion, the first dissemination of Screen Gems' Shock Theatre TV packages, and the success of such fear factories as American International and Allied Artists.  Staying true to the original Forgotten Horrors concept of covering independent productions, as well as non-horror pictures with horrific elements, Vol. 6 examines such offbeat titles as Girl in Black Stockings and Up in Smoke along with taking fresh looks at the more usual suspects.
Nth Degree, on the other hand, is a kind of a special case, gathering and expanding on the series of "Forgotten Horrors" columns Mike and I did for Fangoria magazine for several years, and adding some essays that I believe are the high point of the book. Michael has a couple of great extended pieces on the martial-arts star Leo Fong and Texas auteur Larry Buchanan, both of them employing the filmmakers' own words as well as Mike's insights.  I tried to do the same thing in my "Dave Friedman: My Favorite Johnson" (yes, I know — you'll understand the title when you see the story), which covers my long association and friendship with this fascinating man and includes a couple of rare photos from Dave's garage museum, I'm very proud of it, and I'm also deeply proud to be associated with my pal Michael Price's Forgotten Horrors line.  Collect 'em all, kids.