THOUGHTS ON WES CRAVEN
September 7, 2015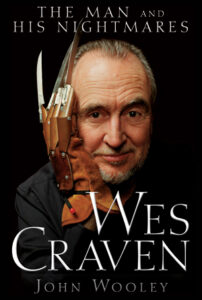 As Wes Craven's most recent biographer, I was taken not only by his creative skill in coming up with new ways to scare us, but also by the spiritual qualities and conflicts that were often in play during many of his films. With all of that in mind, here's something I wrote for the Tulsa World's Jimmie Tramel when he asked me for comments following Craven's passing:
It seems to me that the genius of Wes Craven lay in his ability to bring the terror closer to a viewer than ever before, using an innovative technique that's often been referred to as "rubber reality." Basically, this means that when you're watching the action on the screen, you're never sure if what you're seeing is supposed to be taking place in the real world or the dream world. This intentional confusion of dreams and reality keeps you off-balance and skittish, pulling you into a weirdly intimate place where anything can happen — just as a dream does. I mean, what's more intimate than a dream?
I remember the first time I became aware of what he was doing, and it chilled me to the marrow. It's kind of a throwaway scene in 1984's Nightmare on Elm Street, his breakthrough picture, in which the camera pans down a high school hallway, with kids going back and forth to classes — and there's a goat, standing by a locker, with no one paying any attention. It was exactly the kind of thing you'd see in a dream, and I suddenly knew we were dealing with something new here, and that the ante had been upped for horror-film audiences.
To my mind, this approach was perfected in Wes Craven's New Nightmare(1994), which I think is his best picture. In it, reality warps back and forth and back again, as he and his two Elm Street stars, Robert Englund and Heather Langenkamp, play themselves, haunted by manifestations of the roles they've played. It sounds confusing, but it's freaking brilliant.
I should also say here that a tip of Freddy Krueger's fedora needs to go not only to actor Englund, who helped make the Krueger character such a fright-film icon, but to Tulsa's own Heather Langenkamp, who brought an immeasurable amount of charisma and likability to her roles in Craven's two greatest films. (And yes, the Scream pictures were pretty terrific too, with Craven leaving behind the idea of rubber reality to explore the potential of self-reference, in which the characters in a horror film refer to characters in horror films. It was very clever, but I just didn't think it was as effective as the approach he took in Elm Street and New Nightmare.)
I was delighted to be able to really dive into this stuff in my Craven biography, Wes Craven: The Man and His Nightmares. I would've been even more delighted if an event trumpeted by a Hollywood Reporter story back in the mid-'80s had come to pass. It said that Craven's next picture would be Old Fears, based on a novel he had just optioned. Old Fears was written by my friend Ron Wolfe and me, and while Craven kept it under option for a year or so and we cashed a couple of nice checks as a result, the film version never happened.
About 10 years after Craven took out the option, when Scream was getting ready to hit the nation's theaters, I did an phone interview with him in my capacity as an entertainment writer for the Tulsa World. He was congenial and articulate, as he always seemed whenever I talked to him, and when I reminded him I was the co-author of Old Fears, he said, "Oh, sure. Did that picture ever get made?"
I wish it had. And I sure wish he'd made it.
HIDDEN SIXTIES SUMMER SPECIAL
September 1, 2015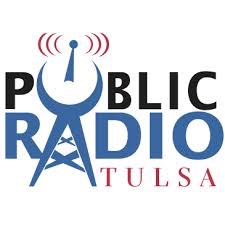 Please join Public Radio Tulsa's Scott Gregory and me at 8 p.m. this Friday, Sept. 4, for the broadcast of our latest HIDDEN SIXTIES SUMMER SPECIAL. This is the one that computer problems sabotaged a couple of months ago when it was initially supposed to air; we are now assured those have all been fixed and we are cleared for takeoff.
As you may remember, this particular installment of our quarterly holiday series is a tribute to the Beatles' Shea Stadium concert, a defining moment in popular-music history that happened 50 years ago this summer. To celebrate, Scott and I have put together a pretty swell variety of Beatles covers, ranging from reggae and sunshine-pop to straight-ahead jazz and even Dixieland. We don't want to give away the farm here, but don't be surprised to hear Beatle-song interpretations from Bobbie Gentry, the Midnight String Quartet, Chet Baker, and even the leading movie sexpot of the 1930s during the course of the hour.
That's the HIDDEN SIXTIES SUMMER SPECIAL, 8 p.m. Friday Sept. 4 on Public Radio Tulsa, 89.5 FM, and streaming anywhere in the known universe at 8 p.m. Tulsa time over publicradiotulsa.org. And thanks for listening.
HIDDEN SIXTIES TECHNICAL DIFFICULTIES
July 8, 2015
My sincere apologies to all who tuned in to our HIDDEN SIXTIES SUMMER SPECIAL Friday night at 8 p.m. on Public Radio Tulsa, 89.5 FM, and publicradiotulsa.org. No one was more flabbergasted than me — like you, I was listening at home — unless it was my co-host, Scott Gregory.
I have heard from a lot of people via email, Facebook, phone, etc., and I've been told that the station will air it again in the near future. Of course, that's cold comfort to those of you who stayed at home instead of going out on July 3 so that you could hear the show, and to those of you who went out of your way to retweet or share my Facebook postings about it.
When the station announces a new air date, I'll get the word out with alacrity. Meanwhile, thanks to everyone who tuned in. I hope you'll be able to listen to the whole thing soon, because I really do think you'll enjoy it.
THE TWILIGHT AVENGER
February 15, 2015
Except for a couple of stories I sold to Warren's fabled Eerie magazine in the very early '70s (just before Uncle Sam came along to whisk me away from my writing pursuits and drop me onto a helicopter carrier ferrying Marines to Viet Nam), The Twilight Avenger was the first comic book I ever scripted. Originally floated out on the crest of the black-and-white independent comics wave of the 1980s, the character was created by artist Terry Tidwell and me for an initial four-issue run.
The strange and sad reason only two of the projected four comic books appeared — although a later version ran for eight issues from a different publisher — is explored in an essay of mine that accompanies the entire original adventure in the brand new graphic novel, The Twilight Avenger Vol. 1, expertly and lovingly produced by Bill Cunningham, aka the Mad Pulp Bastard, for his Southern California-based Pulp 2.0 Press.
The Twilight Avenger Vol. 1 offers, for the first time, our entire pulp-and serial-flavored, 1930s-set story, featuring an Old School masked avenger and a costumed villain, along with plenty of what used to be called female interest. The approach we took is nicely summed up on the cover of the book, shown here. It's one of several new pieces of art that Terry, and others, created for the book. (And while I might be telling tales out of school, it's also one that caused him a bit of embarrassment after he'd finished it. He thought, on the whole, he might've gotten a little too carried away with the young lady's deshabille. But he and Bill let it ride, and Terry seems okay with it now.)
Other bonus features include a series of lobby cards for the (unfortunately pretend) Twilight Avenger serial, a Twilight Avenger prose story written in the style of the weird-menace pulps, and a casting call, in which I had a little too much fun selecting the real-life '30s B-picture actors I'd like to have seen in the TA serial.
We think it's a nice package for pulp, serial, and costumed-hero comics fans, and we like the price Bill put on it. The Twilight Avenger No. 1 is on sale for under ten bucks from our eStore address: https://www.createspace.com/5281297
It's also available at amazon.com, where it's been racking up some pretty good numbers. You can check it out at either place, and we'd sure appreciate it if you did.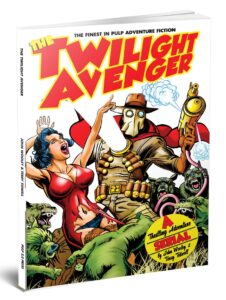 HARD-BOILED CHRISTMAS STORIES
December 9, 2014
Just in time for the holidays, it's now easier than ever to pick up a copy of HARD-BOILED CHRISTMAS STORIES for your own library, or as a swell gift. You probably know the details: nine great tales of Yuletide homicide from some of the top pulp magazines of the 1930s and 1940s, plus the first all-new Dan Turner — Hollywood Detective story in more than 60 years, written by yours truly in the style of the great pulpster Robert Leslie Bellem. My Reverse Karma Press partner John McMahan and I — with considerable help from my pal and frequent collaborator Michael H. Price — have just managed to get it on Amazon, the world's largest bookstore, where it can be ordered immediately. If you prefer, check HARD-BOILED, and a couple of other fine books, at our official website, reversekarmapress.com, where you can order via PayPal or credit card.
And if you happen to live in the Tulsa area, drop by one of my two favorite brick-and-mortar stores — Dwelling Spaces at 119 Detroit Ave. and Ida Red Boutique at 3336 S. Peoria Ave. — and take a look at HARD-BOILED up close and personal.
HARD-BOILED sales have skyrocketed into the hundreds, but we've still got a few — okay, plenty — left, and I'd love for one to find its way to a spot under your holiday tree this year. Thanks, and happy holidays!
HALLOWEEN GOODIES
November 9, 2014
Halloween has long been one of my favorite holidays, so I'm really happy to have a couple of things going this particular October 31 that may be of interest. I'm also proud to say that both of them come to you via the public airwaves.
First, at 8 p.m. Tulsa time, Scott Gregory and I co-hosting The Hidden Sixties Halloween Show on Public Radio Tulsa, 89.5 FM (and streaming live anywhere in the doggone universe at publicradiotulsa.org). The latest in our semi-regular series of broadcasts featuring rock 'n' roll, jazz, and pop music you may not have heard since the '60s — if you've heard it at all –this one runs the gamut from the Bonzo Dog Band to Lambert, Hendricks, & Ross; Duke Ellington to the Del-Aires. And you know we've got some Bobby "Boris" Pickett in there, as well as the creepiest of all the '60s teenage death ballads.
Please join us at 8 p.m. Halloween night for a full hour of weirdness on a couple of levels, as Scott Gregory and I proudly let our freak flags fly with The Hidden Sixties Halloween Special. My brother, Mark, and I plan to listen as we're handing out candy to the costumed kids coming down Ninth Street in Chelsea, Oklahoma, continuing a tradition started at that same address more than 60 years ago.
And then — the very same night — it's time for the new TV series Film Noir Theatre, debuting at 10 p.m. on RSUTV, Channel 35. (Tulsa-area cable and satellite subscribers should check their listings for the station, which may be different.) Jennifer Sterling and I, with the invaluable help of director Rachelle Faught and her crackerjack crew, co-host this six-episode presentation, which will air in the same time slot for five more weeks after the debut.
Each week we're bringing you a classic film noir, one of those dark and fatalistic Hollywood films that flourished for a time after World War II, thanks to our great friends Bob and Don Blair at VCI Entertainment. (Check out their terrific collection of movies out at www.vcihomevideo.com)
On Halloween night, we've got one of the best to kick things off: It's Detour, the tawdry and ragged 1945 thriller from that weirdly fascinating Poverty Row studio PRC, directed by the low-budget auteur Edgar Ulmer and starring B-pic leading man Tom Neal. There may not be any monsters in it — although that depends on your definition of the term — but it's sure perfect for Halloween, because if it doesn't give you a case of the heebie-jeebies, you don't have a heartbeat.
As a guy with a face for radio, I really stepped outside the old comfort zone with Film Noir Theatre so it's quite possible that I may give you the heebie-jeebies as well. Rachelle and Jennifer made me look as good as possible — and Jennifer looks great — but it may not have been enough. Luckily for all concerned, there's more movie Friday night than there is me, and for my money Detour is one of the best ever.
Check it, and us, out at 10 p.m. Halloween night, on RSUTV, Channel 35.
HEATHER LANGENKAMP INTERVIEW
October 17, 2014
I first interviewed Heather Langenkamp about three decades ago, just as the film NIGHTMARE ON ELM STREET was in the process of making her a horror-movie star. Now, Heather's returning to her hometown of Tulsa to celebrate the 30th anniversary of that iconic spooker, and I'm proud to say that I've been asked along for the ride.
I'm scheduled to interview Heather on the afternoon of October 22, a Wednesday, for Philbrook Downtown's special Halloween edition of its Art Recess series of arts-related events. We're set to begin at 12:30, and it's free and open to the public. Food Truck Wednesday will be going on outside the building, so there'll be plenty of culinary choices to go along with the discussion.
With NIGHTMARE ON ELM STREET, Heather Langenkamp became a Scream Queen of the first rank. She remains one of the most articulate and engaging of that group, and I'm delighted to be speaking with her again.
Join us October 22 at Philbrook Downtown, 116 E.Brady Street in Tulsa.
ED GALLOWAY'S TOTEM POLE PARK
September 21, 2014
One of the hoariest of the cliches surrounding my profession is that writers should write about what they know. Thanks to my old Chelsea High School pal David Anderson, I've just been able to do that, and the resulting book, ED GALLOWAY'S TOTEM POLE PARK, is now available on Amazon.
As a kid growing up in Chelsea, Oklahoma, I visited the nearby Totem Pole Park several times, mostly with my family after church on Sunday. Mr. Galloway was still alive then, and I remember eating our picnic lunch on one of the concrete tables in the park and then going into the building where he had his hand-made fiddles on display and listening to him talk.
Of course, I had no way of knowing about the life he'd had before building, as a retiree, what we all referred to as the World's Largest Totem Pole. That turned out to be one of the most fascinating things I got into while researching and writing this new book. Nathan Edward Galloway didn't only build this enduring and unique tourist attraction; he also fought in one of the most overlooked wars in American history, and, later, became a longtime associate of the famous oilman and philanthropist Charles Page, who hired Mr. Galloway to teach manual arts to the orphaned and underprivileged kids at his Sand Springs Home.
I was also able to write about the sad years of the park, following Mr. Galloway's death, before the family and a flurry of good folks began restoring it to its former glory. In fact, the very first story I ever wrote for the TULSA WORLD was about the Totem Pole and its then-current state of disrepair.
The curtain falls, time passes, and David Anderson and his wife, Patsy — another high school friend of mine — have returned to the area and become the Totem Pole Park directors, under the auspices of the Rogers County Historical Society. With tourists coming through every day from all over the world, detouring about four miles off Route 66 to take it all in, the Andersons thought it might be nice to have a book available to park visitors, and that's where I came in.
At just over 82 pages, it's no WAR AND PEACE, but it's a wonderful story and I'm glad to be the one picked to tell it. It also sells for under 10 bucks. Check it out on Amazon or, better yet, drop by the park, a few miles east of the Mother Road on Oklahoma 28A, just outside of Foyil. And tell 'em Wooley sent you.
ROSE STATE SHORT COURSE ON WRITING
August 30, 2014
I'm proud to call Bill Bernhardt a friend, and not just because he's a New York Times bestselling author who's entertained hundreds of thousands of people with his Ben Kincaid novels and other work. It's also because he's been so consistently kind to me and what I laughingly refer to as my career over our many years of friendship.
Back in 1999, when Bill decided to start his own imprint, HAWK Publishing Group, he chose to reprint the debut novel from Ron Wolfe and me, OLD FEARS, as one of the first three books that launched the company. Over the next decade or so, HAWK published a ton of my stuff and bought a lot of groceries for my family.
In 2009, Bill dedicated his novel NEMESIS: THE FINAL CASE OF ELIOT NESS to me. (I was able to reciprocate by dedicating my 2011 bio, WES CRAVEN: THE MAN AND HIS NIGHTMARES, to Bill.)
And now, he's designated me Oklahoma Author of the Year. To paraphrase a good old line from radio writer Goodman Ace, I don't deserve it — but then again, I've got diverticulitis, and I don't deserve that, either.
The award is a small part of the latest Rose State College Short Course on Writing, set for Sept. 19-21 at the Rose State College campus in Midwest City, OK. Bill's the man behind it all, and he and I will be joined by about 30 more writers, editors, agents, and other publishing-industry figures, including Guest of Honor Jacqueline Mitchard, whose DEEP END OF THE OCEAN was the very first Oprah Book Club selection.
Those who'd like more information on the course can find what they need at www.rose.edu/shortcourse. I've been privileged to speak at several of these events, and I can tell you that Bill and his faculty deliver the stuff that writers need to know. I'll even try to make my own little contribution, based on my 35 years in the writing game.
If you're interested in writing, I hope to see you there.
And, seriously Bill — thanks.